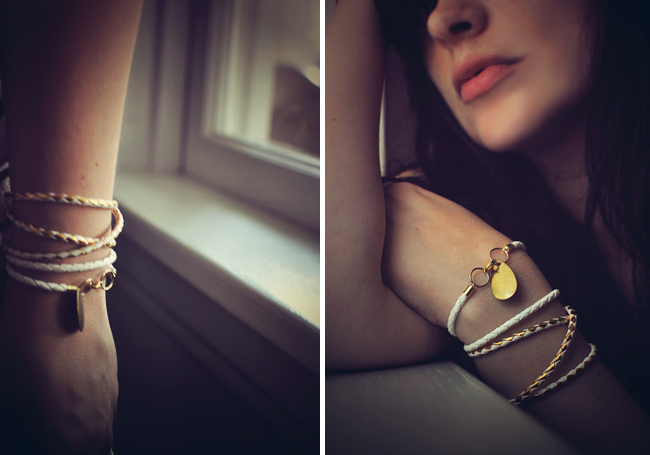 I didn't mean to do a diy today but it kind of happened anyway. This one has no step by steps because (like i said) it wasn't planned out. I had a few minutes between luke asking for a snack and eve waking up from her nap, so instead of doing something like clean or whatever I decided I'd play around and make a bracelet out of what supplies i had kicking around at home. Here's what I used to make this wrap around bolo bracelet...
Bolo Cord
- we have this around the shop because we often get in beautiful bolo pulls but the cording needs replacing. I got spools of this from my local wholesaler. It came in white, black, teal and gold/white. You can also buy way more colors on etsy. I like the beautiful selection of colors
.
Jump Rings
- I suggest keeping a pack or two of jump rings around even if you're not into making jewelry to sell. I'm always fixing friends jewelry and pieces for the shop because it's usually just a matter of replacing a little metal ring. They're cheap and come in all metal tones. They're even easy to bend with your fingertips if you don't have jewelry tools. Good old etsy supplies has endless options
.
Lobster Clasps
- I like these better than the C shaped ones. Also, just a little easier to clip open in my opinion. I don't always buy my supplies on etsy - ebay is still sometimes a good place to find larger lots, and don't forget to scout your local wholesaler. I would avoid big box craft stores though, the selection is weak and the prices are high for the small quantities you'll get.
Super Glue
- Oh handy little glue tube. I both love and hate you. I use good old super glue, the one that comes in a clear pill bottle so you don't stick yourself and everything around it together. I always end up with glue on my fingertips but that's because I'm never careful about anything. Just don't touch your eyes. And make sure you get the one that's good for metal and leather. I also usually get the smallest tubes because it always gunks up before you can use the whole thing anyway, so buying in bulk is not a benefit.
End Caps
- I love these things. They're little metal caps with a loop on one end (
) which you can glue your cording (leather or otherwise) into, leaving a nice finished end with a loop for your jump ring to fit into. They also are available in a crimp style (
). Just make sure you get the right size for the cord you plan on using.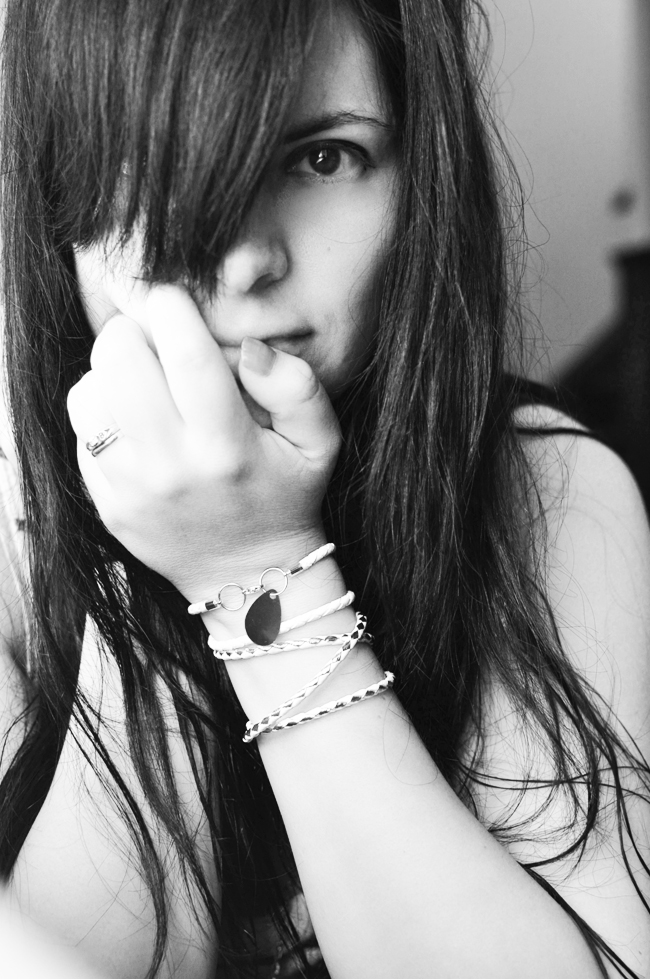 I used wood beads and some metal tags to decorate the large jump rings that connected the bolo cord. Wrap as many times as you like. I only had shorter lengths left over, but I'd like to try one that wraps my entire forearm and has a couple rigid white duck feathers dangling off it! If you try out this idea, please email me to share. I've been loving all the beautiful Dreamers you've been sharing inspired by our
. Visit
to see how the collection is growing!!
Love Lune