My most prized position is eggie, Lune's mobile shop and our traveling home away from home. She was an investment that I'll never regret. A piece of local history since she was designed and initially produced in Manitoba from 1968 to 1979. Is it really weird to feel like a trailer is part of the family?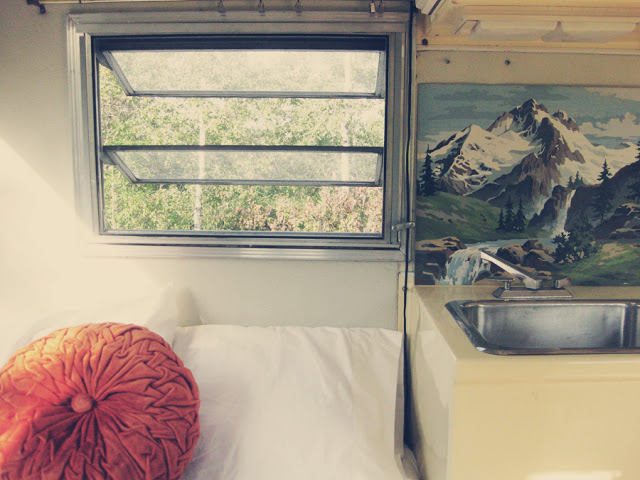 So. I have a big decision to make. Eggie needs a paint job. Her original color is cream on the top and mellow yellow on the bottom. Her interior is pale yellow too. I love yellow and use it alot for lune, but if I'm investing the cash, I kind of want her to stand out and look custom - not just cleaned up.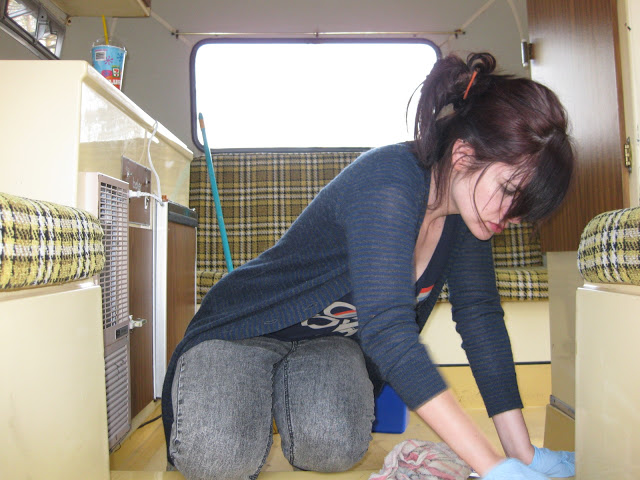 Last spring I tore up her nasty carpet and scrubbed away - she was in pretty good shape though and didn't need a lot of help on the interior. I've seen photos of trailers with mold all over the inside, or really modified fiberglass cabinets that look terrible. I don't want to re-do the interior so whatever color I pick for outside, it has to be cool with the yellow inside. I also like the original plaid upholstery (what do you think of it?). It's in PERFECT condition so that's a keeper.
I always loved this pea green color. In fact - I see a vw bus like this every so often. If you're from winnipeg and around fort rouge, you've probably seen it parked there too. I want one of these buses to match eggie. Damn is this person living in my head? I wonder what color she is on the inside.
I'm not so sure about white on top. Super bright white like that feels a bit sterile to me, but I think I want to stick with two colors... maybe a lighter green on top? Celedon green was already suggested, I love that color too but It's hard to know what colors are available in this kind of paint so I guess that will be my ultimate decider. This feels like a big decision to me. HELP ME! What would you do?