I wanted to share with you something that we're enjoying right now. My little girl Eve Moon is starting on her first solid foods. Well, semi solid. It's starting out with peas and apples, bananas and pears, and rice baby Mum Mums. I'm making all her baby food fresh, and the apples are from my parents trees this year. Firsts like this are so fun. I am in no hurry for this little girl to grow up though. Every morning she greets me with the biggest smile - and I've come to count on it to start my day off on the right foot.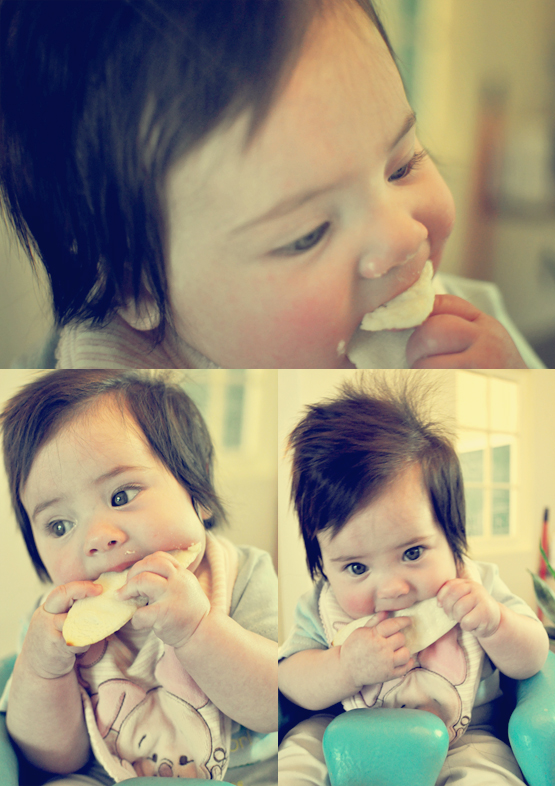 Todd says she looks like a little troll with a bone. She might look sweet in these pictures - but the grunting slobbering noises she makes are pretty colorful.
Another thing that made me smile this week, I stopped to look at Lukes artwork on the wall in his school one afternoon. The project was to make a fall tree out of tissue paper and glue (Eric Carle style). Most of the trees looked very nicely done, but similar. Lukes was a trunk with a HUGE multicolored canopy of leaves, some falling down each side and gathered in a pile on the ground. When he saw me looking at it, he was so excited that I loved it so much. It was more than just a nice picture - it made me feel like I'm instilling in him that it's ok to do things a little differently and to go the extra mile to make something special. Maybe it's just because I'm his mom and so ready to see the uniqueness of what he does, but I am just so proud of him.
I have to admit, I'm very hesitant to share these "mom show" style posts here on the blog, because that's not what Lune is all about. But, it is a big part about what I am about. I advocate being your own person and not falling into the pta lifestyle of defining yourself by the children you've spawned, or the wife you are to your partner. I don't think everyone should have children, or that you're missing out if you choose not to. I don't think being married is the answer to happiness, or a great accomplishment that checks off a box toward a successful life.
I do think we should celebrate the love and happiness that relationships bring into our lives.
That's the point of sharing these moments here every so often on Lune. There is a lot of life in this blog for me, and when I look back, I want to be reminded of everything that was worth remembering. How could I leave two of the most special people in my life totally out of it?
Thanks for hanging around for my "mom show".