Hellooooo again! I'm back to kick off Lune's Vintage Style File for September with how to style a 90's jumper dress. When I found this cute black floral cotton dress, it had big shell buttons and a weird, matronly long hemline. We gave it a quick makeover, removing the buttons (since it's way too low of a neckline to wear alone anyhow) and gave it a slightly asymmetrical hemline. Looking at these photos, I think I'm going to take another go at it and take the front up another couple inches. I paired it with a vintage crochet cardigan, grey racer tank, peep toe platforms and demi bell bottoms to make it wearable for fall.
Now check out my snazzy modeling skills...
katchow!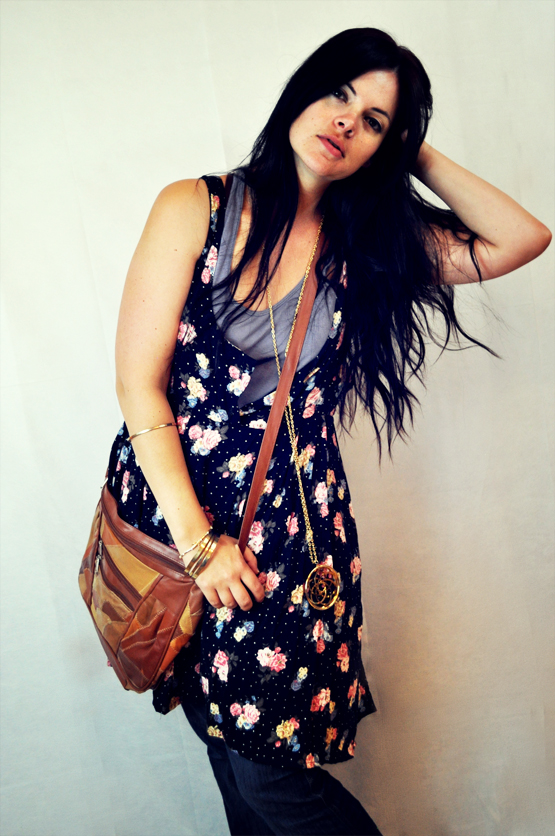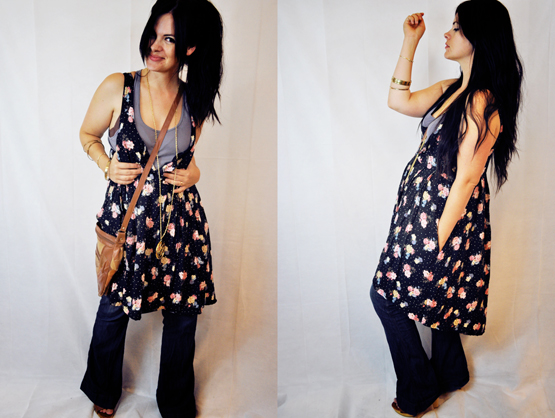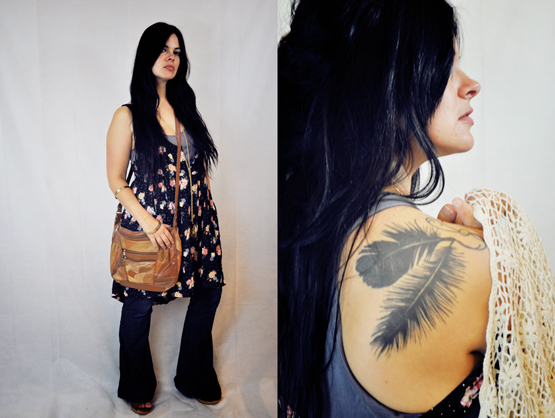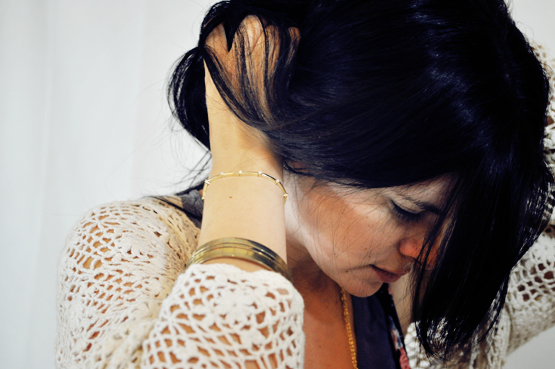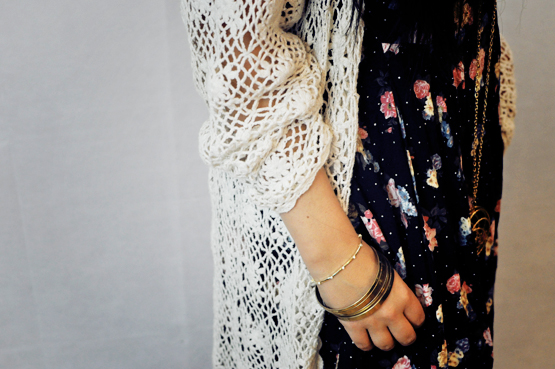 The pretty
I'm wearing is c/o Anjolee who sent some sparkle our way with one of their Starburst
. I love mixing chunky jewelry with delicate pieces like this. Wearing a lot of thrifted and mixed metal jewelry is a lot of fun - but it's nice to remember what gold looks like (instead of just gold tone). Adding a few quality pieces to your collection to blend in with your thrifted or vintage costume finds makes a huge difference!
When shopping for vintage accessories, I try purchase the best quality I can. Brass is a good bet for bangles and pendants. It does tarnish. Sometimes that patina looks quite nice, but it can also be cleaned to the shine you desire easily with polish or a mix of vinegar and salt. I also LOVE copper which has been used for ages in jewelry for it's warm color, malleability and holistic properties. More on my love for these metals later (it deserves it's own post).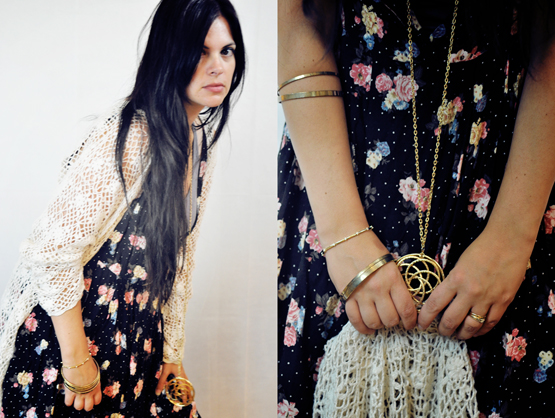 This is a loose airy look, even though it's composed of several layers. I picked this one out of Lune's racks for myself because It's been almost 4 months since I had my little girl, which means I'm still rockin a mummy tummy in some capacity (although it's disappearing much faster than it did with my son - here's hope to you first timers who might wonder about the second time around). I love the extra low neckline, under arm and back. I paired it up with a racer back tank to add interest to the lines in the back of the outfit.
outfit details:
night garden jumper dress: Lune Vintage
vintage crochet cardigan: vintage fr. Jill's closet
brass bangles: thrifted
brass 60's pendant: from a deadwood antique mall
: Anjolee
jeans: Mudd/Kohls
platforms: Target
tank: American Apparel
leather patch cross-body bag: Lune Vintage
alternative styling:
A 90's jumper like this would also look great with tights (basic black or pull a color from the pattern of your dress) and some docs or ropers. For those who don't usually wear florals (like me) a tougher boot can help to make the outfit feel more "you". It's fun to be kind of girly every so often.
Hope you enjoyed this Vintage Style File!
Love Lune