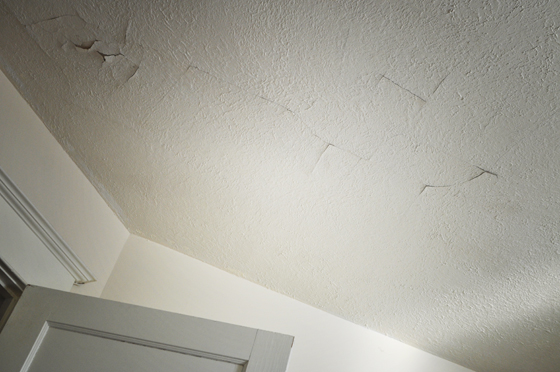 We live in a century old home. I truly love it. When we were buying, I got a lot of flack for wanting an old home. It's definitely an acquired taste. Growing up, I lived in a "new" build, my family home was built just one year before I was born. Maybe it's just that you always want what you don't have, but I dreamed of staircases, big lead glass windows and oak front doors, banisters, plank flooring and cozy rooms with tall tall ceilings.
When we found this house, it was completely empty except for some graffiti the kid who lived here before left carved into most of the door frames ("No Mommy, No Daddy" and "Hate"). The basement was kind of scary, a red wall in a hidden corner with the remains of a beaded curtain. Hello Amityville Horror . . . But the price was right, and the mojo felt just fine. I've loved it ever since.
This year we focused on boring and expensive maintenance, a whole new roof because it was literally rotting through. Really, I'm saying from experience that it's a bad idea to put these things off until "next year". We're finally getting to fixing the last show of damage and re-surfacing the ceiling in our upper floor. I'm taking this chance to revive the whole area, so . . . I'm hoping for good vibes and not too much stress or injury. I have a few special vintage fixtures and furniture that I've been saving for a while for this project, so I'll post the result here when we're done.
Would you like to take a little look at the Lune house? Visit
.