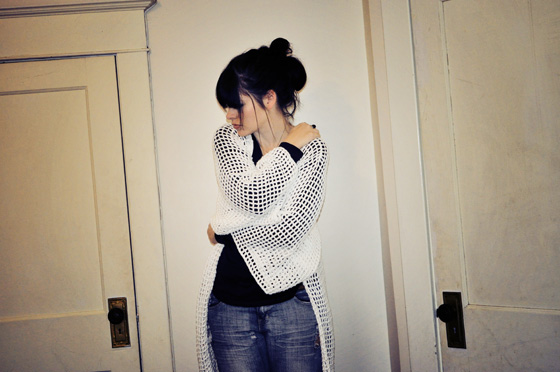 Freakin out this week over some great thrift scores. This open weave bell sleeve - probably a beach cover up at some point but now my favorite extra layer. I grabbed yet another leather tooled belt. Honestly, how many of those can one person have? But I swear, you just can't buy good belts retail anymore, especially nice wide ones like this. More than once a man in line behind me has made this statement about my belt purchase. Too bad buddy.
You know, a great tool to have in your diy toolbox is a leather hole punch. I got mine for 49c a few years ago, second hand of course. They're fantastic for adding an extra hole to make a misfitting belt your perfect size. Also, for those of you trying to lose baby weight like me, it can come in handy.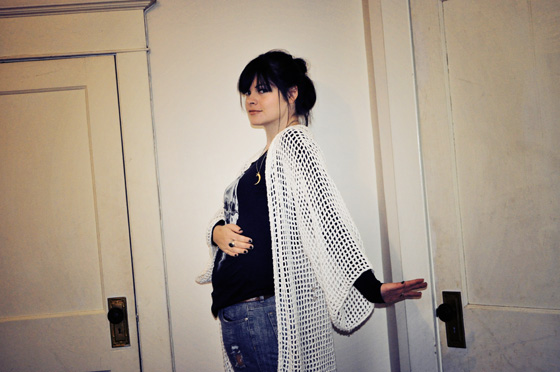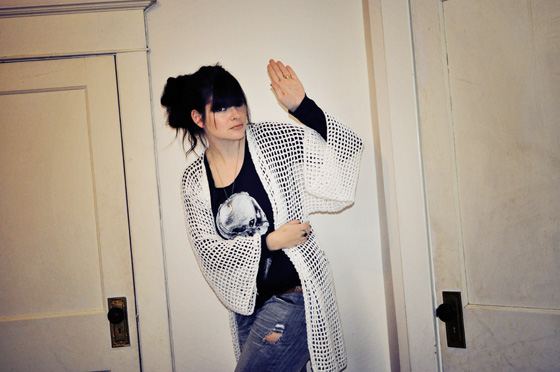 Speaking of that topic, it's been 6 months and I've managed to lose 20 lbs, but now I'm at a real standstill. Feels like it's harder to drop the baby weight this time around. Me and working out are a hilariously impossible combo. I've never been into that. I don't think I've owned a pair of runners since I took my last year of phys-ed (maybe grade 10?). I was the girl who wrote the essay instead of doing track and field - or just skipped it entirely and watched much music in my friends basement (to be more honest). It was a big whatever. But now, when I think I should take physical fitness more seriously it's such a foreign concept - I really don't know where to start.
I did belly dancing for a few months back in 2003. I mean, I like the scarves, bare feet and coin belts. Maybe I could take that up again.
shirt: talula, open weave cover up :thrifted, tooled leather belt: thrifted vintage, denim: thrifted,deconstructed, talon necklace: moon raven designs, ring: vintage, room: my dark day bedroom, photographer: remote with a camera hanging from a wall hook (fancy).