Lovelocks remind me of growing up, hanging out with my best friend on the dock of her cabin. We would go for long bike rides down country roads, under blue skys, and wrap eachothers hair in colored floss. Those were happy memories.
I haven't seen this done for a while, and it has such great nostalgia for me (maybe for you too). Here is a tutorial to remind you of that never ending summer love.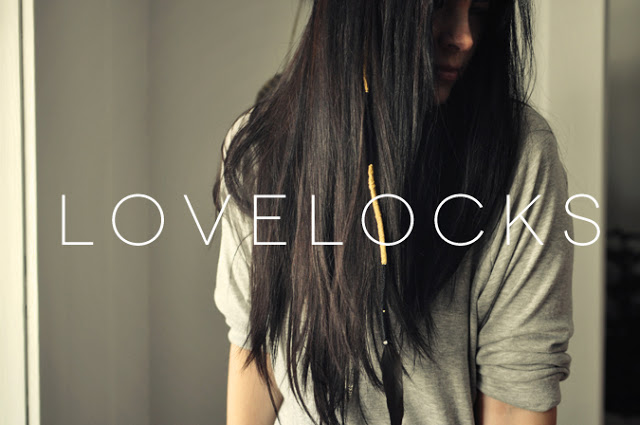 THIS TUTORIAL SHOWS YOU HOW TO CREATE YOUR OWN REUSABLE LOVELOCKS FROM COTTON CORD AND EMBROIDERY FLOSS. INSTEAD OF FIXING THE LOCK TO A HAIR CLIP OR PIN, I USE A JUMP RING. THIS IS A GREAT SOLUTION FOR THOSE OF US WITH SLICK HAIR THAT WON'T HOLD A CLIP FOR MORE THAN 1 MINUTE. SIMPLY SELECT A SMALL SECTION OF HAIR AND BRAID IN THE LOOP CLOSE TO THE ROOT OF YOUR HAIR. SECURE THE BRAID WITH A TINY RUBBER BAND. IT WILL STAY IN ALL DAY THIS WAY, AND YOU WON'T EVEN FEEL IT.