I came across this coat in one of my favorite thrift shops a couple weeks ago, and had one of those moments where the room was spinning in disbelief at what I was holding. Honestly, it's a bit sick the kind of thrill I get from scoring a vintage piece like this. I'm always looking for coats to add to my personal colleciton, and am super picky - but this winter I've found 3 top of the list jackets. In the fall, I found a 70's ladies biker jacket that had a wicked slim cut that tops any modern versions I've seen out there. Then I scored a camel colored wool winter coat with stitched leather arrow detailing on the pockets. It's a lucky streak I want to stay on!
Then, last week I was rummaging through a bin of old hats and scarves and pulled out a gorgeous fur collar. These are the coolest solution to making your fall coat more seasonal, and much more glam. It was destined for the Lune shop, but I think it works too well with the suede jacket. However, when searching for options to share with you, I came across a gorgeously curated shop on Etsy called Zaama, who specialises in vintage up cycled fur collars & scarves, hats & cowls. If you dig vintage fur, you NEED to check this shop out.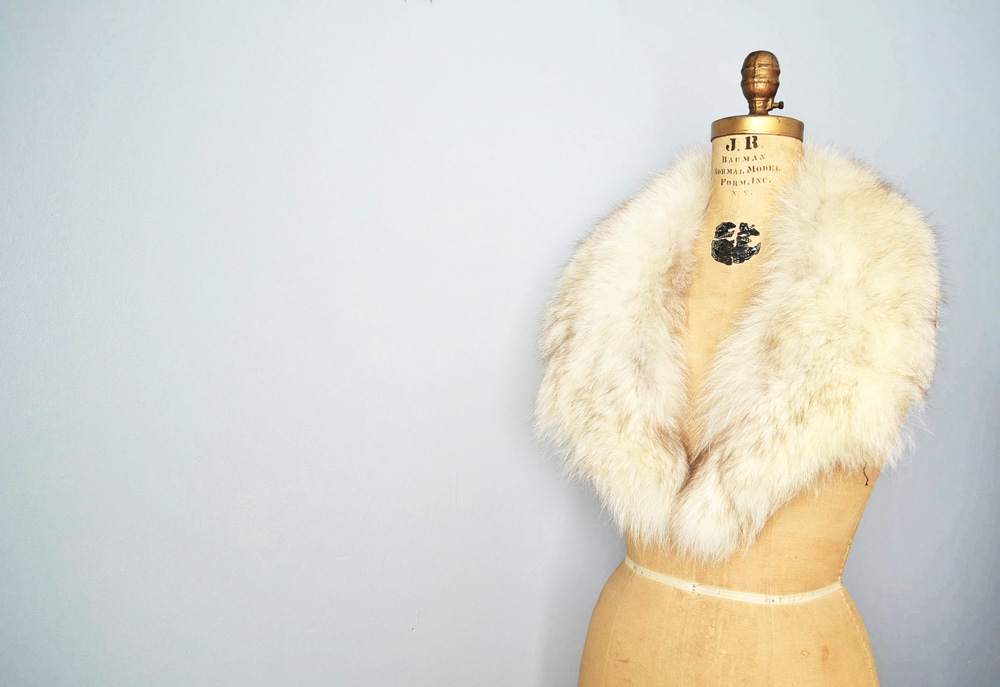 Black fox fur collar scarf shawl
Wild.
If by chance, you were wondering about my stance on fur and leather in fashion, I fully support purchasing, wearing, enjoying and collecting vintage leather, suede and fur coats, bags and accessories. Would I purchase these items made new?
No, I would not
.Correction: As I pulled on my mukluks this morning, I realized that I have purchased new leather and fur products in the past few years. Specifically, native Canadian and fair trade shoes and bags. There certainly is a grey area here, because many traditional craft based businesses rely on using animal byproduct materials. Denying them of their use is essentially denying artists of their livelihood and celebrating culture. But . . .
in most modern fashion, I believe there is quite enough vintage pieces out there to enjoy, and that with the amazing faux leathers and fur that are available on the market today, there is absolutely no reason to resort to the real thing. That is my opinion. So, how do you feel about fur (vintage, faux or new) in fashion?