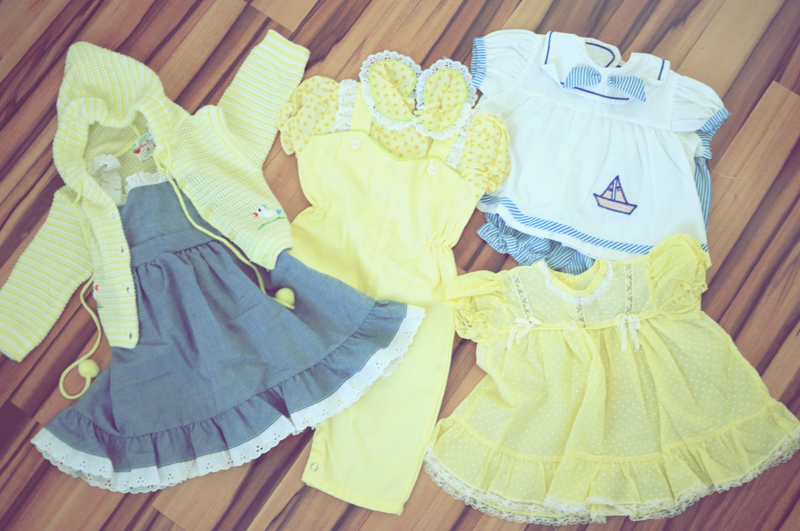 I'm back to share part two of my babyhood fashion treasure chest. On the weekend, Eve wore that cute chambray & eyelet lace sundress, paired with a hand knit cardigan with yarn crewel spring chicks and pom-pom ties. To the zoo last Friday, she wore the yellow jumper with a ruffled peter pan collar. It's pretty over the top, but damn that girl can pull anything off. The sailor shorts and swing top and sheer polka dot dress will be perfect if this weather ever warms up again.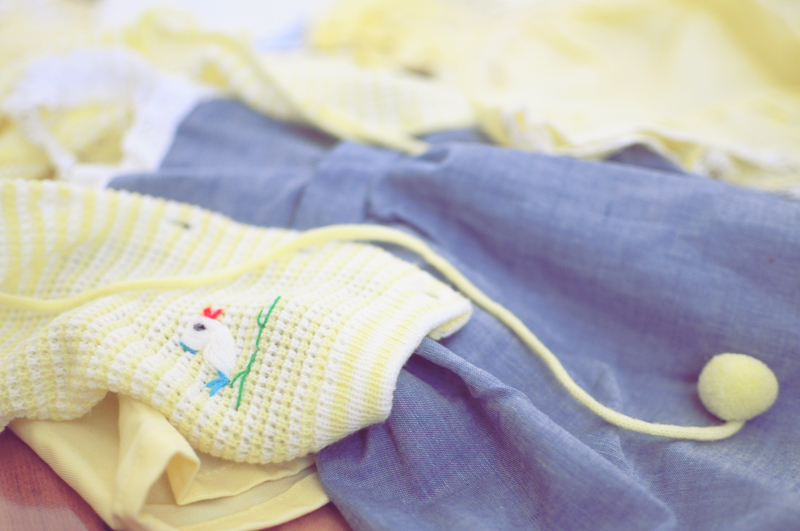 Looking back at what my mom kept from my baby wardrobe, I can see where I get my aversion to pink. When did pepto pink and grimace purple become standard? It's not that I hate pink, I love it in nature, but the assortment of un-natural pinks and sparkles are blinding me.
The good news is, you can still find a lot of vintage baby clothes at the second hand store, and since babies grow so quickly, they're usually in great condition. I'm just starting to look for Eve, because when she was smaller, I just wanted her to be comfortable. I think extra frilly clothes look ridiculous on infants, and they aren't comfortable for them.
Do you have any luck finding baby clothes? I missed a chance a couple years ago to buy a massive amount of vintage 60's and 70's kids clothes for resale. I passed on it at the time, because that wasn't on my radar. Now, it would have been so perfect to pull for Eve and to open a Little Lune section in the shop. Damn! Maybe that's something I should pursue now. What do you think?