Eve Moon is 1 year old! Time has flown by us - proving that babyhood is short and must be enjoyed as much as possible before it's only a sweet memory. I'll share more photos of Eve's party this weekend. We're having a bbq and the weather looks like it's going to be very summery. We'll be making a big deal out of her big 1 then, but on her real birthday, I gave her the Waldorf Dolly I customised for her. Here's a look at the process.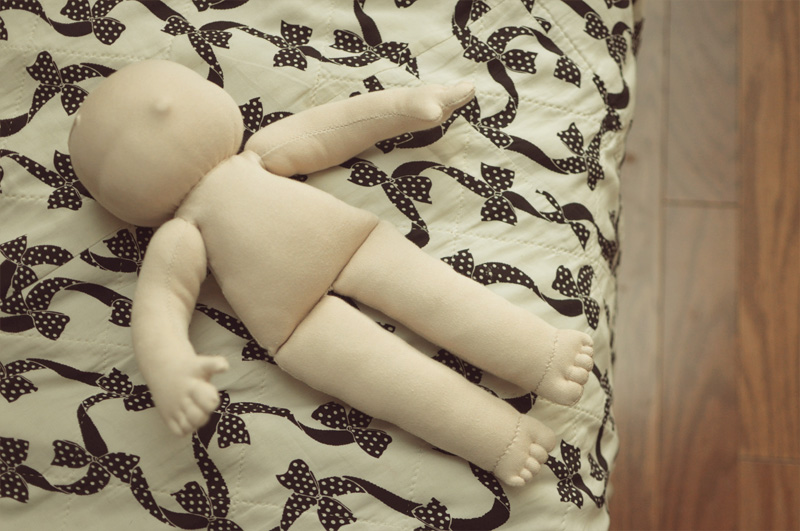 I had a hard time finding a cloth doll for Eve that I really loved. There are a few really sweet dolls on line, but I wanted one that resembled her in a vague but specific way, so customization really made sense.
To begin, I chose some thick yarn that I picked up at a sample sale a couple years ago. I don't have the tag, but it's a nice thick twisted yarn (possibly alpaca). Initially, I bought some beautiful mohair with the intention of needle felting the hair, but that was a total fail. In the end, I think the yarn hair will be more fun for Eve to style when she get's older, and will shed much less.
Here are a few ipod pics I took while working. I chose to divide the hair into three sections, across the crown, a front part, and down the back of the head. I knew I'd be putting the dolls hair in pig-tails, so I made sure to stitch the back part carefully since it would be visible. The result gave the doll a very full head of hair, but that's kind of our family trait, right?
To add hair to our doll, I looped 3 hanks of yarn, and tied each down the center with one strand that was as long as part would be. Then, I laid it in a natural position, paying attention to how hair naturally parts. I placed the front part off center in the same position as Eve's. I then carefully hand stitched it down the part with matching thread. I used a blanket stitch, dividing the hairs into sections and pulling snugly so they would not slip when pulled. After a section was finished, I carefully went through the ends of the hair/yarn and snipped the loops.
The dress I chose for Eve's doll belonged to her as an infant. It's a 0-3 month sundress that was easily sized down to fit the dolls body. I turned the dress inside out, pinned it to fit the dolls width, and sewed a new seam on each side. The straps were cut and crossed in the back, and the piece that gathered the bust of the dress was hand sewn smaller to keep it's shape. I'm glad I could re-use this dress, because it was a favorite, and it gives the doll an extra Eve Moon touch.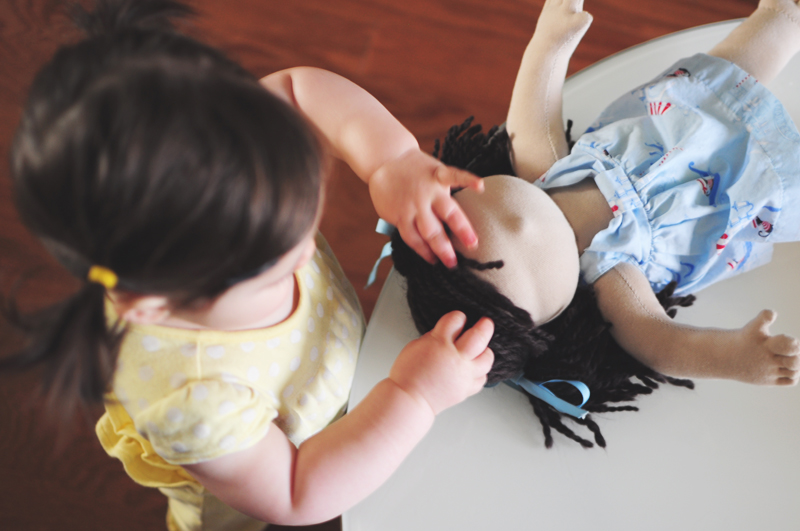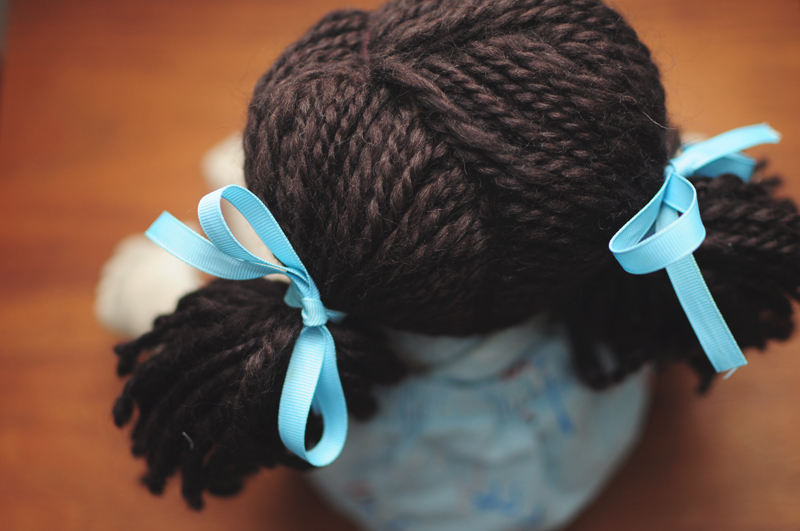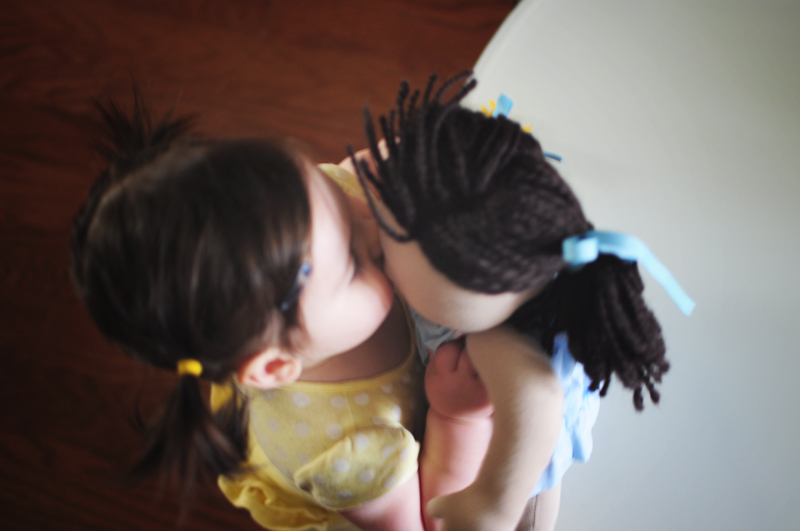 I think she's a hit. Now we need to choose a name. Any suggestions? I was thinking, Luna or Dawn Sun (opposite of Eve Moon). I'd love to hear your ideas about what to name this dolly.