I don't consider myself to be a big shopper. Since we have a family of four, my personal fashion budget has been drastically reduced from when I was in my early twenties. I try to keep myself on budget and to not give in to frugality or whims of passion when it comes to fashion. That being said, I love a few brands and products because they work, they're health wise, they are long lasting or durable, they feel good, are good for the global community, and/or are environmentally conscious by promoting sustainability. These things are worth sharing, so I'm beginning a new type of post called Lune Review. I hope you'll find it informational, honest, and helpful in making smart purchases for yourself and your family.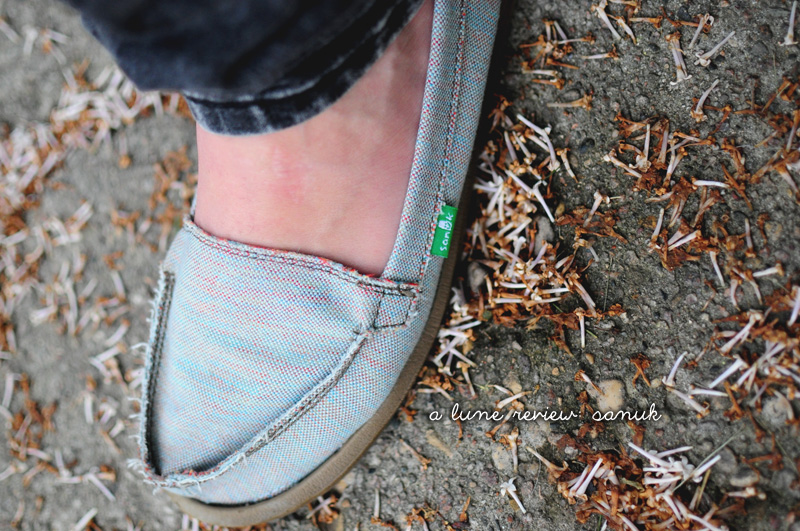 I needed a new, extra comfortable pair of shoes for the summer when I came across
at a campground gift shop in Falcon Lake. We do a lot of loafing around in the summer time since our house is pretty central and that allows us to walk almost anywhere we need to go. I'm a flip flop lover, and am determined to abandon socks from the time the last snow melts, until the first flake falls. Sometimes open toes aren't the best idea though, and thong flops can be very irritating after a few hours of walking about.
A slip on boat shoe seemed like a good choice, and there were a lot of good options with
. Their shoes are vegan friendly, so no use of animal by products there. Sanuk also leads its industry by using innovative materials in its footwear such as yoga mat and indoor-outdoor carpet. I dig the general laid back, comfort focused attitude of the brand. There are a lot of stylish options, and the shoes are no-socks required thanks to an antimicrobial foot bed. After some back and forth I ended up choosing
($55 CAD).
I obviously liked the look of the shoe, but I wasn't convinced about their comfort right away, I have to admit. I shortly got a blister on the back of my right heel, and considered that maybe I had bought a size too small. I'm a size 9, and half sizes aren't offered. I decided to tough it out and put a band aid on the back of my heel and wear the shoes again the next day. By the end of that day, the fabric had expanded and the sizing felt perfect. A week later, I'm convinced these are the most comfortable shoes I've ever owned in my LIFE. I've worn them in hot dry, and muggy weather and felt comfortable the entire time. The shoes still smell fresh and look good. I'm planning on buying Sanuks again in the near future. Maybe
or
.
Have you tried this brand? What was your experience. Do you think you might want to try them out in the future?