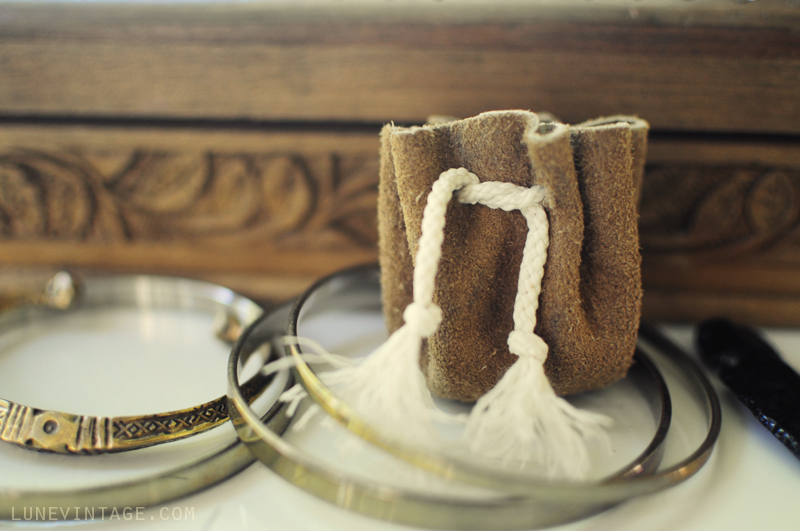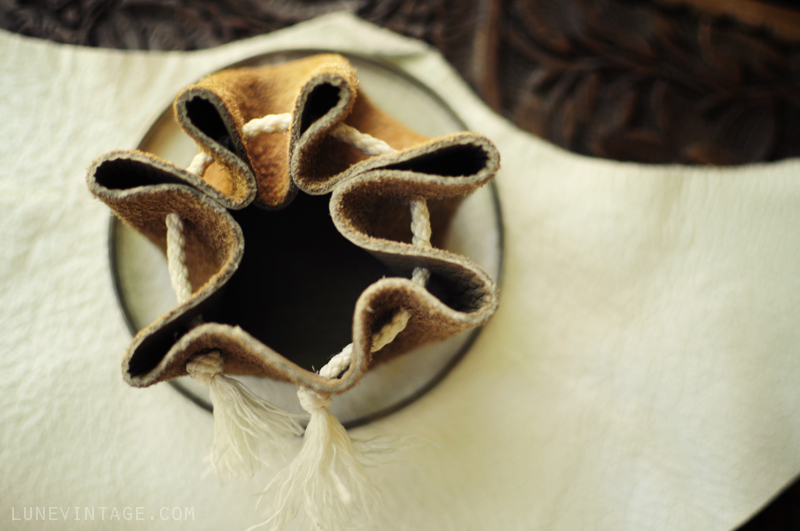 This morning I was trying to think of a way to protect one of my favorite rings from the mess that is my many jewelry boxes. Shortly later, I had whipped up a leather pouch for it. I bet you've made one before too, and if not - it's very simple. I made this one, photographed and blogged about it all in one hour - the time it takes for my little Moon to have her morning nap.
TIPS ON CREATING A BASIC DRAWSTRING POUCH
FROM LEATHER OR FELT
Supplies: Scrap medium weight leather or thick felt, a sharp hole punch or leather punch, sharp scissors able to cut through leather, braided draw string, a pointed tool to ream out punched holes.
Measure and draw a circle which is a minimum of 13 cm / 5.25" across. Cut it out.
Hole punch the outside of the circle, evenly spacing the holes. Make sure you end up with an even number of holes so when strung through, your ends will meet, both facing outward. My example has 14 holes.
Thread through your round lacing and draw tight. Knot the ends and cut off excess. I fringed the tips by unwinding the cord fibers.
Easy, and a great way to protect valuable treasures or send a thoughtful gift to a friend. This pouch is the most basic of traditional native patterns. I made quite a few years ago when I helped run a cultural center. Next time, I'll show you a pattern for one you can up size and use as a summer bag.