LA, me, Kyla & Daisy working hard at the Fringe Festival, 2012.
It's true that I put a lot of work into each mobile sale that Lune Vintage does. It takes a lot of time management, dedication, and belief in what I'm trying to achieve to keep on trucking my vintage and self designed wares around the streets of Winnipeg. But I can't for one second take all of the credit. I have a pretty great team of family and friends who believe in me too.
First off, my husband Todd, who spent his vacation days helping me source last minute stock, who mapped out and constructed an entire awning structure from a badly drawn sketch of mine, who spent his 34th birthday traveling back and forth from eggie to home on the second last night of the festival. He wasn't always on board 100% with what Lune was doing over the years, and sometimes he was right, but I can see now I've won him over. I owe so much of our success to him and his support. Thank you to my two kids, Luke who turned out to be a great street performers assistant and made a cool $15 bucks, and Eve who smiled at every passerby and spent many hours hanging out at the festival without a fuss. Every time they visited, I felt rejuvenated.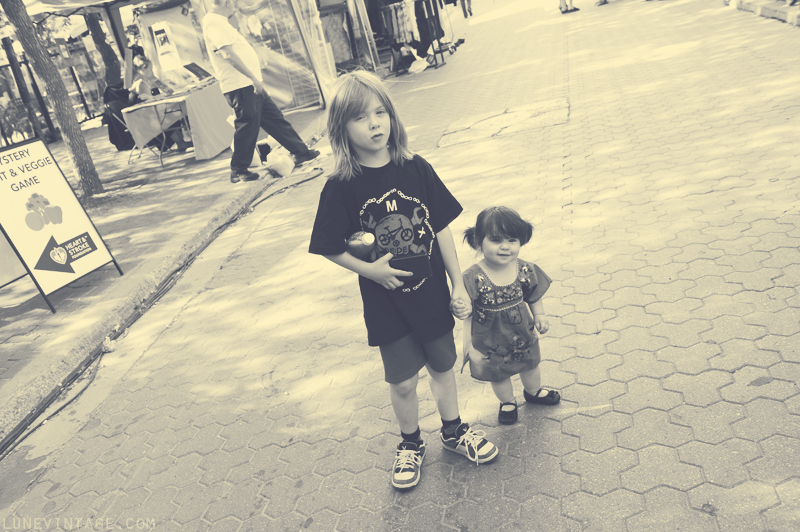 My family has been a huge help. They spend days with Luke and Eve, making sure they were enjoying their summer doing things kids love to do. My mom visited with me and helped keep shop, and even brought a few home cooked meals to keep me going. My brother Josh gave me much needed rides home late at night so the kids didn't have to wake up to go get mommy, and our friends Trevor & Kaitlin helped too.
&
, my good friends from
did me a huge favor. They offered to be shop girls for one afternoon while I rejuvenated and spent the afternoon with Luke and Eve in air conditioned happiness. Not only did they do a good job watching shop, but Kyla turned out to be a kick ass salesperson and pulled off our best afternoon of the whole festival. I asked her to give me some tips. Love those girls. They're true blue friends alright!
Vendors and shop owners in the area really worked together and kept one another going. My friend Pam of Cakeology supplied me with iced coffee and conversation more than once, and Erin & Steph of Oh So Lovely /Rhymes with Orange came by and kept me company, with a some fresh squeezed lemonade! I really appreciated you guys.
Lastly, thank you to the customers, old and new, who shopped with Lune, stopped to talk, and supported what I'm doing here. You made our 3rd year at the Winnipeg Fringe street festival a success.