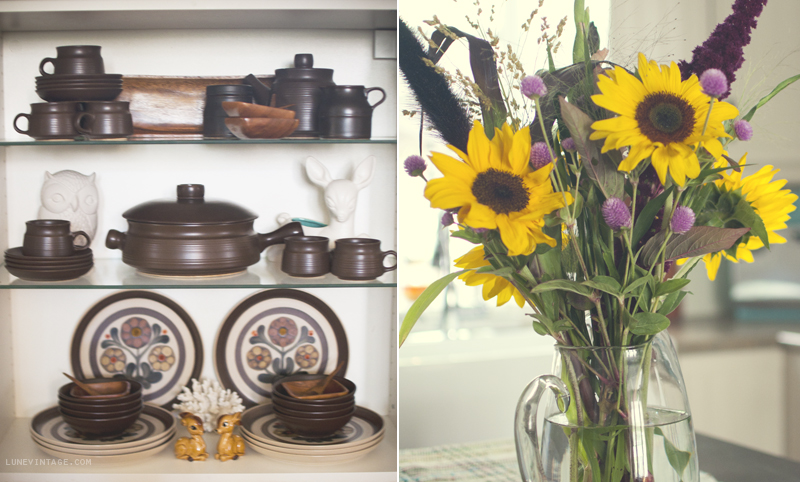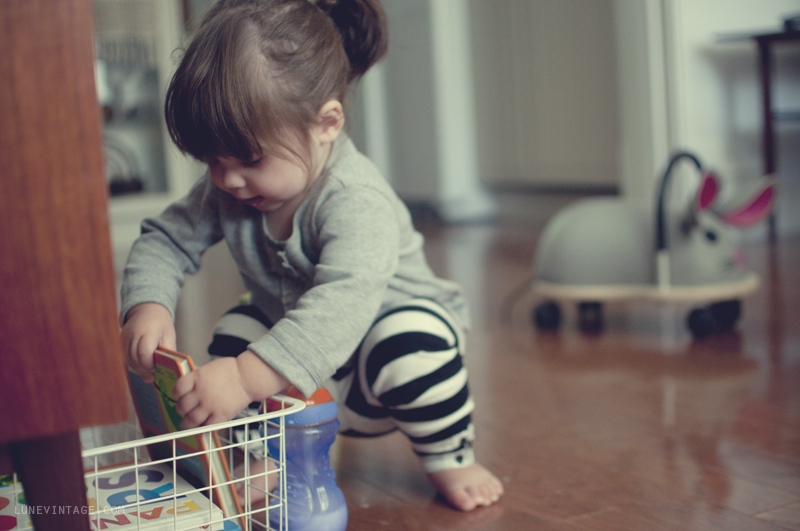 Sunday afternoon was perfect. We went for an early breakfast, stopped at the farmers market for a bouquet of flowers and dinner fixings, Luke found his way outside to play with friends for most of the afternoon & then watched football with Todd. Since football (or any sport really) is completely uninteresting to me, I took advantage of the quiet and switched up the aqua blue dishes I had in the kitchen cabinet for some 1960's stoneware and a few (ceramic) forest friends. Perfect for fall suppers I think.
In the evening, we had a family supper courtesy of the crock pot - which by the way is my favorite way to make a home cooked meal. Throw everything in a pot, leave it all day, eat it. That's my kind of cooking. I'm feeling strangely domestic lately. I think it comes down to several reasons. One, a few of my friends are moving to brand new homes and it reminds me of that exciting feeling of a new space. It's such a good time to shed what you don't need and find ways to enjoy what you forgot you had. Second, like most people, my mood is cyclical. I tend to become super focused on a project or two and let more domestic things slide for a chunk of time and then come around to recharging and getting myself together before diving in again. Right now, we're in the "get it together" phase of this cycle. It's exactly what I need, and although I admit to feeling a bit boring lately, I'm getting a lot done that will help make things easier when it's time to boom again.
Fall is a great time to make your home comfortable before winter arrives, isn't it? Eve's happy that I let some of her toys back into the living room since the sun room is getting cooler in the mornings. Just a few things, but her toy stash is pretty minimal as it is. I have ways of hiding the books, kids records, and baby toys well when they're not in use because I like to keep the main floor (living room, kitchen, dining room, hall) free of clutter. Mommas, do you have any no toy zones in your house? This is my second time around living with baby stuff and we avoided any big noisy toys this time, so I'm finding it so much easier to manage the clutter. I don't think Eve is suffering at all because she always seems to amuse herself with book reading, playing with the "babies" and running around to music. They don't need much do they? That's not what toy companies would have you believe though.
Fool me once, shame on you, fool me twice, shame on me.
Hope your week is starting out right. Thanks for visiting me friends!